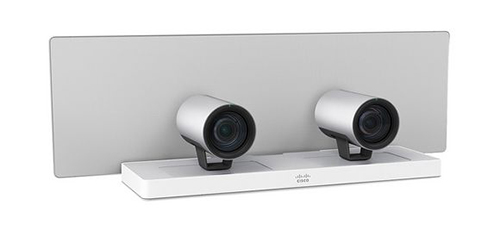 Documents

Download our new CISCO product catalog for free.
DOWNLOAD NOW
SpeakerTrack 60
$329,487.68 MXN
In a typical video conferencing environment, the camera captures the entire meeting room. This usually means that the participants, including the speaker, seem small, especially if the conference is held in a large meeting room. Having the person always speaking in plain sight offers an optimal experience, an experience so real that it may even be better than being physically present.
The SpeakerTrack 60 uses a double camera approach. A camera quickly locates the person who takes the floor and presents a close-up. At the same time, the other camera prepares to search for and display the next interlocutor. This results in a quick camera change and an uninterrupted meeting experience.
TRAITS
• Quick, direct change between interlocutors.
• MultiSpeaker Views prevents unnecessary changes when the next active speaker is already in the shot.
• 1080p60 HD resolution for the best possible image quality.
3 in stock
Especificaciones
Videoconferencing-Cisco-Speaker-Track-60-datasheet_01.pdf