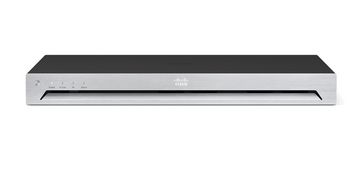 Documents

Download our new CISCO product catalog for free.
DOWNLOAD NOW
Cisco TelePresence SX80 Codec
$405,275.33 MXN
M&AacuteS INFORMACI&OacuteN
The Cisco SX80 telepresence codec is the ideal solution for custom installations and large rooms such as meeting rooms or auditoriums. It offers Full HD video resolution up to 1080p60 and high-definition content for sharing up to 1080p30, as well as support for standards-based video solutions for individual installations.
The SX80 codec has 4 video inputs and signal processor, supporting up to three displays. The Cisco SX80 teepresence codec is available in 3 different integration packages:
• SX80 codec and 1080p 4x PrecisionHD camera for smaller rooms.
• SX80 codec and Precision 60 camera for larger rooms.
• SX80 codec and SpeakerTrack 60 dual camera system with speaker tracking capabilities.
Especificaciones
Videoconferencing-Cisco-SX80_03.pdf