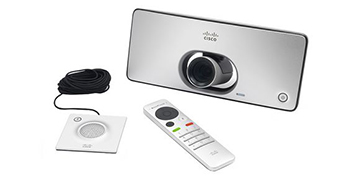 Documents

Download our new CISCO product catalog for free.
DOWNLOAD NOW
Cisco TelePresence SX10 Quick Set
$80,341.84 MXN
M&AacuteS INFORMACI&OacuteN
The SX10 Quick Set telepresence system is an all-in-one system designed and created to enable professional video in small meeting rooms to increase collaboration space. The focus is mainly on SMEs.
This high quality unit combines a camera and a codec in one device in a compact way. The system is mounted directly on the flat screen with the corresponding additional bracket. Power is supplied via Power over Ethernet (PoE) via a simple cable. High quality video with 1080p30 resolution, the camera is designed for small spaces, being its viewing angle approximately 10° higher than the standard camera, all this gives us the best quality of viewing images.
Especificaciones
Videoconferencing-Cisco-SX10-datasheet_01.pdf